Sting
Sword of Bilbo and Frodo Baggins

"Maegnas aen estar nín - dagnir in yngyl im"
Written in Tengwar in the Sindarin language of the Grey Elves, the inscription reads: "Sharp point I am called, slayer of the spiders I am " - or, somewhat more loosely: 'Sting is my name, I am the spiders bane'.
Sting is the sword made in the city of Gondolin which is given by Bilbo to Frodo in Rivendell where the fellowship is formed, he tells Frodo that the sword is made by the Elves and that it glows blue when orcs are close. And reminds Frodo that it is at times like these when one needs to be extra careful.
In 'The Hobbit', Bilbo Baggins of the Shire set out with Gandalf the Grey and 13 dwarves. On their journey they stumbled across three Trolls. The Trolls captured the dwarves but Gandalf eventually saved them, he caused the trolls to bicker and quarrel untill dawn. In the first rays of light all three of the Trolls turned to stone. From the treasure cave of the Trolls, Gandalf and Thorin (the King of the Dwarves) each took a sword, and Bilbo took a knife in a leather sheath. For a Troll it would have been a tiny knife but for the hobbit it was as good as a short sword.
Later Bilbo, separated from his companions in the forests of Mirkwood, was almost tied up in the web of a giant spider. He managed to break his way free and slay the spider with the sword that he'd salvaged from the cave of the Trolls.
".. as he wiped his sword on the grass and put it back into its sheath. 'I will give you a name,' he said to it, 'and I shall call you Sting."
-The Hobbit
Screenshots: Frodo with Sting in The Fellowship of the Ring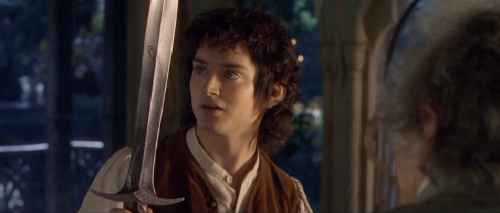 Frodo with Sting in The Two Towers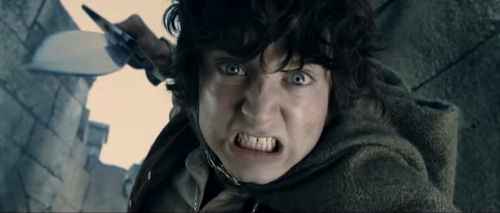 Sam with Sting in The Return of the King