| | | | |
| --- | --- | --- | --- |
| | 1970 Cadillac Optional Equipment | | |
---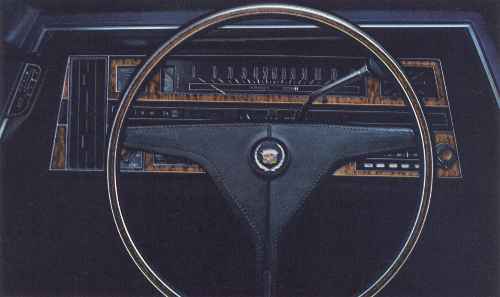 Luxuries to pace the Spirited Seventies
---
CADILLAC RADIOS
All Cadillac radios for 1970 include both AM and FM for maximum choice of station selection. Five pushbuttons are provided for favorite stations. The new antenna is concealed within the windshield thus eliminating the fender mast.

AM/FM SIGNAL SEEKING STEREO RADIO
The ultimate in listening pleasure with four-speaker stereo sound. Signal seeking tuning bar will even select "stereo only" if desired.

AM/FM SIGNAL SEEKING RADIO
Each successive touch on the signal seeking tuning bar brings in the next station within range, automatically, without manual tuning. Especially appreciated when traveling beyond range of familiar stations.

AM/FM RADIO
A masterpiece of modern electronics in power and performance. Provides full-fidelity sound through front and rear speakers.
---
STEREO TAPE PLAYER
Permits you to select the music of your choice reproduced with the full fidelity of your Cadillac radio. The readily available 8-track stereo cartridges offer a complete range of musical preference. Simply inserting the cartridge activates the stereo tape player. Controls are provided to regulate volume, tone and balance between front and rear speakers.
---
RADIO FOOT CONTROL SWITCH
Available with either of the Cadillac signal seeking radios. You may change stations by a tap of your toe on the floormounted switch.
---
CRUISE CONTROL
A touch on the fingertip control, and your Cadillac will automatically maintain your preselected speed without need of keeping your foot on the accelerator. Convenient and restful.
---
DUAL COMFORT SEAT
This passenger-proportioned front seat provides separate adjustment for driver's section and wider passenger's section. Standard on Brougham, available on Convertible, Coupe deVille, Hardtop Sedan deVille and Sixty Special. A six-way, power-seat adjustment is available for driver and passenger sections, permitting horizontale, vertical and angle adjustment.
---
AUTOMATIC LEVEL CONTROL
Helps keep car level for best appearance and excellent handling. Standard on Fleetwoods and available on all other models. Automatically compensates for passengers and luggage compartiment loading.
---
CLIMATE CONTROL
You'll enjoy the ultimate in motor car cooling and heating with Cadillac Automatic Climate Control. So automatic is its operation that, with a single setting of the thermostat dial, the interior of your Cadillac will remain uniformly comfortable even if you drive from desert heat to mountain snow. Air conditioner outlets are spaced and designed for maximum individual passenger comfort. Cooling and heating are achieved with a maximum volume of air delivered at lower velocity for exceptionally quiet operation. Standard on Fleetwood Seventy-Five models is a dual Climate Control system permitting independent temperature control for front and rear compartments.
---
TWILIGHT SENTINEL
Turns driving lights on and off as required by lighting conditions. Permits leaving headlamps and either cornering lamp lighted for up to 90 seconds to light your way from the car. GUIDE-MATIC
Automatically dims the headlamps of your Cadillac at the approach of oncoming cars ... returns them to bright beam after passing.
---
POWER DOOR LOCKS
Electric control switch on each front door (except Limousine) locks and unlocks all doors for added peace of mind. When Coupes are so equipped, folding seatback locks release automatically when either door is opened.
---
TILT AND TELESCOPE STEERING WHEEL
Adjusts up and down, and telescopes in and out. Swings up at the touch of a lever for easier exit and entrance.
---
REMOTE_CONTROL TRUNK LOCK
The convenience of releasing the deck-lid lock simply by pressing a button in the glove compartment is especially appreciated in inclement weather. When the deck lid is lowered, the power mechanism takes over and locks it securely. A red indicator light on the instrument panel is illuminated whenever the deck lid is unlatched.
---
Additional exclusive Cadillac accessories available through your authorized Cadillac dealer: Cushion Covers

Floor Mats

Right-hand Outside Rearview Mirror

Litter Box / Tissue Dispenser

Compass

Trunk Mat

Spare Tire Cover

Trumpet Horn

Outer Rear-seat Shoulder Belts

Child Safety Seat

Infant Safety Carrier

License Frames

Door-edge Guards

Remote Control for Trunk Lock Release

Rear-window De-fogger

Front License Filler Plate.

Included previously in illustrations or text are the following items of equipment, which are available at extra charge, depending on model selection: Firemist finishes, white sidewall tires, vinyl and leather interiors, Automatic Level Control, Power Door Locks, Tilt and Telescope steering wheel, Cruise Control, Twilight Sentinel, Automatic Climate Control, Six-way Seat Adjuster and vinyl tops. Many additional options are described on this page. See your Cadillac dealer for complete availabilities and prices.
---