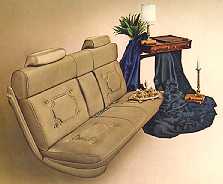 Seat shown is in Light Flax Dubonnet cloth. Eighteen other interiors are available.
FLEETWOOD SIXTY SPECIAL SEDAN
This magnificent Sedan, impressive in both size and luxury, is one of the most respected of all Cadillacs. Exclusive rear and side styling lend special distinction to the Fleetwood series. Interiors are truly gracious in their luxury and good taste. Wood paneling (shown below) enhances the dignity of the Sixty Special's many upholstery fabrics and colors. Automatic Level Control is standard on all Fleetwood models, along with a wide array of other convenience features. From every standpoint, the Fleetwood Sixty Special Sedan is a truly majestic motor car and a genuine compliment to the discernment of its owner.