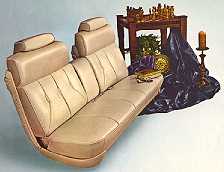 Seat shown is in optional Light Flax ostrich-grain leather. Fifteen other interiors are available.
HARDTOP SEDAN DEVILLE
The most popular of Cadillac's eleven models, the Hardtop Sedan deVille attracts more buyers than any other single luxury car in the world. With its brilliant new styling, its famed Cadillac luxury, its remarkably quiet comfort and handling ease, the Hardtop Sedan deVille is truly a masterpiece. The unusual choice of interiors and body colors, plus its numerous power assists, such as the power-operated adjustable front seat, (shown below) make it outstanding among fine cars. With its many personal conveniences, including power windows and a full complement of courtesy lights, the DeVille marks its owner as a sound judge of value and distinction.