| | | | |
| --- | --- | --- | --- |
| | 1966 Cadillac Motoring Pleasure and Owner Loyalty | | |
---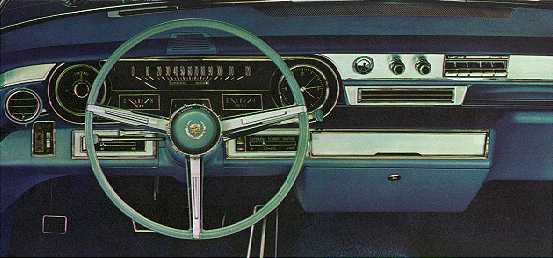 Standard of the World
IN MOTORING PLEASURE AND OWNER LOYALTY
Once you have been in the driver's seat of a new Cadillac, it is difficult to find contentment at the wheel of any other car.
For int he 1966 Cadillac, you are surrounded by every driving convenience and every motoring luxury.
Power steering and handling are both importantly improved. A touch of the accelerator awakens the quietest, most responsive engine you've ever known, made even smoother by a refined Turbo Hydra-Matic transmission. Cadillac's improved suspension system provides a marvelously smooth, silken ride. And Cadillac's wonderful new world of quiet lets you converse in a whisper or enjoy your favorite radio music without distraction.
The beautiful new instrument panel gives you ideal visibility and accessibility of controls.
Should you select Automatic Climate Control you can dial your favority temperature as easily as you set your home thermostat - and never give it another thought from season to season whatever the outside weather.
And you can personalize your Cadillac with an extraordinary variety of other conveniences. Cruise Control lets you drive without your foot on the accelerator. You can enjoy the glorious sound of AM-FM stereo radio, and the personal comfort of a steering wheel that telescopes as well as tilts. Twilight Sentinel automatically turns your lights on and off according to light conditions and can be set to leave lights on until you reach the door at night.
No wonder that Cadillac, in terms of elegance, excellence and excitement remains the unchallenged Standard of the World and is universally accepted as the finest of fine cars.
---