| | | | |
| --- | --- | --- | --- |
| | 1965 Cadillac Options & Accessories | | |
---
OPTIONS & ACCESSORIES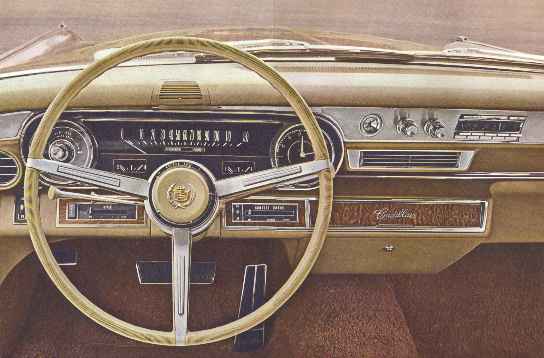 COMFORT CONTROL: Combines heating and air conditioning in a single unit. A dial permits setting of interior temperature as easily as with a home thermostat. Once set, the temperature is automatically maintained regardless of changes in the weather or the season.
CRUISE CONTROL: Permits dialing of desired speed. Cruise Control is entirely disengaged by turning off ignition or manual "off" switch. It can be temporarily disengaged by touching the brake pedal. A new ruby colored light indicates when the system is in automatic operation and a new lighted dial illuminates the numerals.


POWER CONTROL: Provide remote adjustment of windows and ventilator panes. Consult your dealer about which controls are standard equipment on the particular model of your choice.
MAKE YOUR DRIVING MORE ENJOYABLE AND YOUR CADILLAC MORE PERSONAL
Cadillac provides as standard equipment Turbo Hydra-Matic transmission, power steering, power brakes, cornering lights, retractable front seat belts, heater and defroster and, on most models, power seats and windows.
Cadillac also offers the finest choice of accessories and options in the luxury car field.
With the introduction of Comfort Control last year, three out of every four Cadillac owners selected this wonderful, exclusive temperature control system. For 1965, it has been improved for even more precise control and still more efficient operation. See description and illustration above.
The new Cadillac Automatic Level Control, standard on the Fleetwood Series, except the Seventy-Five and available on other models, compensates for load conditions in the rear compartiment or luggage compartiment. This assures that the car maintains its fine handling characteristics, more accurate headlamp aiming and holds its designed road clearance regardless of load variations.
Some of Cadillac's most popular accessories and options are shown and described on these pages.
For example, new for 1965 is the exclusive Tilt and Telescope Steering Wheel, shown below, providing personal comfort never before offered in a motor car.
A new power door lock system is new to the industry and exclusive to Cadillac.
Other popular accessories and options that are not shown include: Controlled Differential (provides more positive traction on slippery road surfaces) . . . Four-Way Bucket Seat Power Adjustment . . . Guide-Matic (power headlamp control) . . . Soft Ray Glass . . . Door Edge Guards ... White Sidewall Tires.
Your dealer will be pleased to demonstrate these and many others. You will find him extremely helpful in your selection of a Cadillac to fit your personal needs and tastes.

Above are additional body color selections not shown on the cars illustrated on the previous pages.
| | |
| --- | --- |
| POWER DOOR LOCKS: Appreciated by women and important when children are in the car. All doors automatically lock when the power locking knob on either front door is depressed. All doors are automatically unlocked in any one of three ways: by lifting either front knob, by opening a front door from the inside, or by unlocking a front door from the outside with a key. | |
| | |
| --- | --- |
| | TWILIGHT SENTINEL: Automatically turns lights on at dusk or under poor light conditions. Automatically turns lights off at sunrise or when light conditions improve. Headlamps and a selected cornering lamp may be left on up to a minute and a half by setting a delayed action lever, thus providing a path of light from the car. |
| SIX-WAY POWER SEAT: Provides horizontal, vertical and angle seat adjustment. The Six-Way feature is standard on the Eldorado and available on other models with bench type seats. This option has long been a favorite with those who wish to personalize their Cadillac driving position. | |
| | |
| --- | --- |
| | NEW TILT AND TELESCOPE STEERING WHEEL: This exclusive Cadillac option telescopes in and out three inches with a simple fingertip control that locks it in any position. It also tilts to the desired position. This multi-adjustment provides a wide range of positions to offer the most personal comfort for every driver in the family. It also permits a relaxing change of position to help relieve the monotony of long travel . . . and can be easily changed while the car is in motion. |
| | |
| --- | --- |
| RADIO: Available in either AM or AM-FM. The AM-FM set offers automatic frequency control and both manual and push-button tuning. The AM set provides manual, push-button and signal seeking tuning. Both sets include remote control antenna and front and rear adjustable speaker control. | |
---