THE CALAIS SERIES - ELEGANT NEWCOMER TO THE FINE CAR WORLD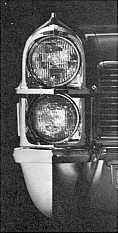 A brilliant combination of Cadillac quality and practicality, the new Calais Series represents a new standard of value for the Standard of the World.
Available in a coupe and two sedans, the Calais Series introduces a new measure of luxury, comfort, and performance surpassing even the famous Series Sixty-Two which it supersedes.
The Cadillac Calais is priced favorably with many models of smaller and less distinctive cars ... and represents the most practical path to the unsurpassed pleasure and pride of Cadillac ownership.
All Calais interiors reflect Cadiilac's new spaciousness and incorporate that degree of comfort only Cadillac can provide. Scats are deeply cushioned and their higher backs give easy-chair restfulness. Calais luxury appointments include rear corner reading lights, courtesy lights, front and rear ash receivers and lighters (front only on coupe), electric clock, built-in visor vanity mirror and folding center armrests. The center armrest is located in the front seat in the coupe and in the rear seat in sedans. Fabric patterns, interior design and trim all display Cadillac's superb craftsmanship. Soft, loop pile carpeting further enhances comfort and beauty.
The dramatic interior shown above is indicative of the new Calais glamour and graciousness.


The Cadillac Calais is distinguished by the same new styling that characterizes all Cadillacs. The new vertical headlamps (above) are an identifying feature of this new styling and emphasize the wider, lower front end look.
The same unity of design extends from its new grille, through its gracefully sloping windshield and new roof line, to its impressive rear appearance. Even the sculptured grace of the door handles (right) shows Cadillac's meticulous attention to detail.
This new Cadillac styling is given maximum expression by a brilliant range of sixteen colors-all available on the Calais Series.
Calais models provide the same outstanding performance as do all 1965 Cadillacs. The famous Turbo Hydra-Matic transmission is now standard equipment for the first time on this most modestly priced Cadillac series.
In combination with an all new drive line, an advanced suspension system and a wider tread, this new power team introduces a new worid of quiet, smoothness, stability and handling ease.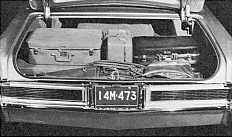 In addition, every new Calais model provides as standard equipment power brakes, power steering, heater and defroster, Cadillac's exclusive triple braking system, cornering lamps and backup lamps . . . together with many unique Cadillac styling features such as the beautiful new wheel covers. Available at extra cost are Cadillac's exclusive new smaller diameter, wider tread, tripie-line whitewall tires.
The new luggage compartiment is more generously proportioned and more functionally arranged for maximum capacity and better luggage arrangement (see picture right).
On all Cadillacs, the sleek new lines of the rear quarter panel, shown at left, culminate in the new chromed taillight assembly. On this series it is accented by the chromed Calais script.
The Cadillac Calais name-a brilliant newcomer to the fine car world-is surely destined to establish a new measure of automobile value in performance, luxury and pride of ownership.
Why not visit your Cadillac dealer and learn how easy it is to become a Cadillac owner?
Once you see one and drive one, you'll be on your way to a lifetime of Cadillacs. For it's a fact that Cadillac owners are the most loyal in the world.
Come to think of it-once you know Cadillac would anything less ever fully satisfy you?